Art of War, Other Producers, Vietnam, World
USA Vietnam soldier 6 v2
€2.50 – €36.50
shipping from 9€
In cooperation with ArtofWar. 1 miniature.
SKU:

USA Vietnam soldier 6 v2
Categories: Art of War, Other Producers, Vietnam, World
Tags: Army Miniature, ArtofWar, Collectible, Diorama, Display Model., Historical Collectible, Historical Miniature, Military Gift, Military History, Military Model, miniature, soldier, Soldier Figurine, Tabletop Gaming, USA, USA Soldier, Vietnam Era, Vietnam Soldier, Vietnam War, War Memorabilia, War Miniature, Wargaming
How do we measure our scales?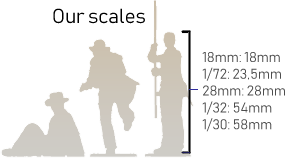 Measured from top of base to top of head
Want size a little different? No problem, please write below!
Need entirely other scale? Please mail us!
If the picture of the figure shows a base, then the figure will come with a base unless you request otherwise. If no base is shown in the picture, then you will need to request a base on the figure if you would like one.